Coventry City Council 'must save £61m'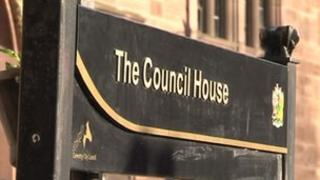 Council leaders in Coventry say they need to save £61m over the next three years to help meet a budget shortfall.
The council said the measures it was looking at included cutting £3m from its community services, including adult social care, libraries and wardens.
Leaders at the Labour-run council also say council tax will increase by 2% next year. Previously they were also said to be cutting up to 800 jobs.
Union officials said the cuts could potentially mean "Armageddon".
The council has still to hear how much it will receive from the government towards next year's budget.
This could take another two weeks, the authority said.
Last month, council leaders warned up to 800 jobs could go - on top of 800 previously lost over the past two years - because of the anticipated cuts.
'More themselves'
Deputy council leader George Duggins said: "We will have to look at council services that we know are important to local people.
"We will be providing less to people and will need them to more for themselves. But we will continue to be honest and upfront with the people of Coventry and work with them to tackle these challenges."
The council said other services that could be affected in the £3m cut from its community services budget - which would happen during 2013-14 - would include trading standards, adult education, environmental health and neighbourhood wardens.
It said a further £2m would be saved through part-privatising some services and by reviewing contracts with companies that already exist.
Council leaders said they expected an extra £700,000 of cuts to come out of a review of neighbourhood services, £500,000 from public health and £500,000 from the council's education service.
Richard Harty, from Unison, said: "This is potentially Armageddon. I'm really worried about £700,000 cuts to neighbourhood services, that's a considerable chunk of their budget."
The council's opposition Conservative group has criticised the pre-budget report for lacking detail.
Ann Lucas, cabinet member for health and community services, said local councils had been offered up as "sacrificial lambs" to help the government deal with its finances.
A spokesman for the Department for Communities and Local Government said no decision had yet been made on future years' funding.
He said: "Councils are getting a fair deal - this year Coventry had a total spending power on each household of £2,576 to protect the front-line services people rely on, nearly £400 more than the English average of £2,186."
The measures will be discussed at a meeting of the cabinet on 11 December and they will then be put out to public consultation until 5 February.
The final decision on next year's budget will be taken at the full council meeting on 26 February.