Stratford-upon-Avon shop crash 'needs police case review'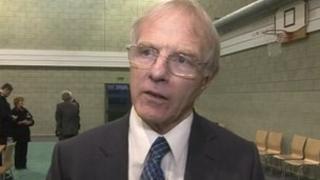 Warwickshire's new Police and Crime Commissioner (PCC) has asked the force to review a case of car crash that left five people injured.
Ron Ball said he had asked the chief constable to re-examine the case in which a car hit buildings in Stratford-upon-Avon on 23 April.
Mr Ball admitted the case was "clearly an operational matter" and officially beyond his role as PCC.
However, he said "matters of public concern" prompted him to raise it.
Five pedestrians were injured when a car crashed into a shop front on Bridge Street.
No prosecution
Two air ambulances attended the scene and six people were taken to hospital after the crash.
"It is not my role to comment on whether I believe the decision not to prosecute was correct," Mr Ball said.
"In this case, I do believe it is in the public interest that the police review the case."
The new PCCs replaced police authorities across the country last month.
They are expected to help set policing priorities, manage the budget and hold the force to account, while Chief Constables remain in operational control of each force.
A former airline pilot and independent candidate, Mr Ball won the election with more than 33,000 votes after the second round of counting on 16 November.