Jack Macleod's mother in witness appeal over 2005 death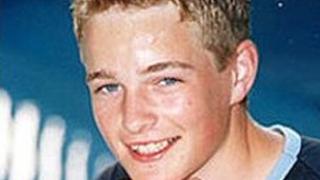 The mother of a 17-year-old boy who was found dead seven years ago has appealed for witnesses who may need to "unburden themselves" to contact police.
The body of Jack Macleod was found in the River Leam, Warwickshire, a month after he disappeared on 4 December 2005 following a night out.
His mother Sheena said someone may now feel able to share information.
She appealed in particular to a man who anonymously called police after a Crimewatch appeal in January 2006.
"We believe that seven years on there may be somebody out there who wants to unburden themselves or actually tell what they know or feel that they can actually move forward if they had the opportunity to phone or make contact with Crimestoppers on various numbers or email," she said.
Mrs Macleod said it may help the person involved and it would "definitely help" Jack's family to be given more information about his death.
In 2009, a manslaughter case against a friend of the teenager collapsed when a judge ruled there was insufficient evidence.
And an inquest into his death in 2007 was halted after witness statements and a police interview transcript were not submitted to the coroner.
'Significant interest'
Warwickshire Police, who have previously apologised for their handling of the case, have supported the new appeal.
Graeme Pallister, crime manager for the force and West Mercia Police, said: "Warwickshire Police fully recognises that Jack's family and friends have many unanswered questions in relation to what happened to him back in 2005.
"It is every parent's worst nightmare to lose a child and we still to this day do not know what happened to Jack after he was last seen near Adelaide Road Bridge in Leamington Spa at around 1.35am on Sunday 4 December 2005."
He said the force had carried out a thorough investigation but officers welcomed any information which would help officers piece together what happened to Jack.
Mr Pallister said a key question related to a call after the BBC Crimewatch programme broadcast Jack's last know movements on 31 January, 2006.
"As a result of this appeal one call of significant interest was made to the police by an anonymous male who has, until this day, never been traced," he said.
Anyone with information was urged to contact Operation Enact investigation at the force or Crimestoppers.