Shakespeare charity has 'no plans' to sell Shottery land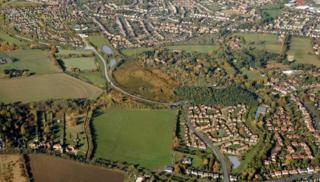 A charity responsible for some of the Shakespeare family buildings in Warwickshire has said it has no plans to sell some of its land to developers.
The government has given the go ahead for up to 800 homes to be built near Anne Hathaway's cottage in Shottery.
Stratford-on-Avon District Council is against the proposals and has taken its appeal to the High Court.
The Shakespeare Birthplace Trust said it would review its position when the legal challenge outcome was known.
Plans for the homes, a primary school, a health centre and shops were given the green light by the government following a public local inquiry.
The inquiry came about after developers Bloor Homes and Hallam Land Management appealed against the district council's original decision to oppose the plans.
Some of the land earmarked for development close to the childhood home of William Shakespeare's wife is owned by the trust.
'Charitable objectives'
Planning Minister Nick Boles has said there is a need to build more on "open land", but the trust's deputy chairman, Richard Hyde, said they had a "responsibility to keep an open mind".
Mr Hyde said: "We looked at whether this application harmed or benefitted the cottage, the garden and the environment and we concluded that it actually harmed and therefore we objected.
"We went through quite a careful process, weighed up all the evidence and concluded that to fulfil our charitable objectives we had to object, we did object and we are still objecting."
Mr Hyde said any decision over whether to eventually sell could be taken out of their hands because of "compulsory purchase powers".