Warwickshire flooding: Warnings and alerts remain in place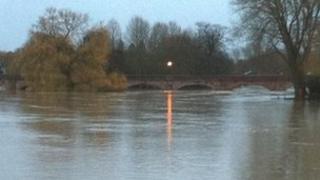 Flood warnings and alerts remain in place in Warwickshire following heavy rain over the past few days.
Some roads across the county remain blocked because of flooding. On Monday three people had to be rescued after their car became stranded in Bedworth.
The Environment Agency flood warnings and alerts mostly affect the rivers Avon and Leam.
Weather forecasters have predicted conditions will improve as rain eases off later.
The A422 in Tysoe was closed at the Sun Rising Hill junction because of a landslip.
Fire crews were called to Coalpits Lane, Bedworth, on Monday evening to rescue three people whose car was stuck in nearly 5ft of water. No-one was injured.
On Sunday, five homes were flooded in Weddington, Nuneaton, and five elderly people had to be rescued from a flooded caravan park.
Farmers have warned the heavy rain could have a major impact on next year's crops, with many unable to sow at the moment because of a lot of standing water.