Warwickshire floods: Motorists rescued by fire service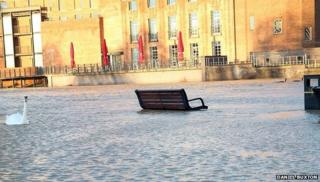 Several people have been rescued by Warwickshire Fire and Rescue Service, which took 45 calls related to flooding overnight into Sunday after heavy rain.
The service said seven people were pulled from cars stuck in flood water and five elderly people were rescued from a flooded caravan park.
More than 20 flood warnings have been issued for the county by the Environment Agency (EA).
Warwickshire Police has tweeted about a number of road closures.
The EA said the Rivers Anker, Arrow and Leam were all at risk.
Richard Austin, from the agency, said there was up to 30mm (1in) of rain overnight.
He said: "That rain has fallen on ground that is already saturated and river levels are rising all across Warwickshire."
'We are worried'
The fire service has warned people not to drive through flood water after a number of people were rescued from Preston Bagot, Coventry Road at Church Lawford and Oak Tree Lane at Sambourne.
West Midlands Ambulance Service (WMAS) has urged people not to drive through flood water.
WMAS general manager Nathan Hudson said: "We were called out to several incidents where cars have tried to pass through flooded roads, fords, and small rivers and got stuck.
"It is quite simple: driving through flood water is inherently dangerous.
"The emergency services have had to risk difficult and often dangerous conditions in the middle of the night.
"A little bit of common sense from the public will ensure that no-one's life is put in any unnecessary danger."
Nic Allen, from Stratford-upon-Avon Riverside Caravan Park, said the water had not risen since Saturday.
He said: "We are worried about later, though, and expect the water to rise after all the heavy rain we had last night."