Warwickshire floods: Warning of more disruption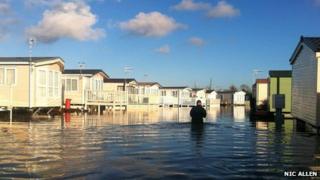 People living in Warwickshire who have been affected by flooding in recent days have been warned there could be further problems this weekend.
The Environment Agency (EA) said five flood warnings were still in place across Warwickshire.
The rivers Leam and Avon were most at risk.
John Buckingham, from the EA, said: "River levels have gone down but the prediction is they may rise again to the same as Wednesday and Thursday."
The EA tweeted that Warwickshire is one of several areas of "great concern" over the weekend.
The Met Office said a yellow weather warning would be in force, with up to 30mm (1in) of rain expected in some areas in the West Midlands.
'Absolute result'
Nic Allen, from Stratford-upon-Avon Riverside Caravan Park, which was badly hit on Thursday, said the water was subsiding.
He said: "I've been wading through three feet of water, but if the levels keep going down we'll be open within 48 hours.
"I'm worried the water will come up but there's not much we can do if it does; everything's on high ground.
"We've lost one caravan out of 600 and one of the clubhouses has been damaged, but that's an absolute result compared to the 2007 floods when we lost 450."
The county's fire service said it had received more than 40 calls from people stuck in floodwater on Friday, with three people rescued near Alcester after their car was swept down a swollen ford.
A spokesperson from Warwickshire Fire and Rescue Service urged motorists not to drive through floodwater.
A message on the Stratford-upon-Avon Rowing Club website said it was closed on Friday and Saturday and the town's racecourse was also flooded.