Coventry LTI workers rally support in London and Liverpool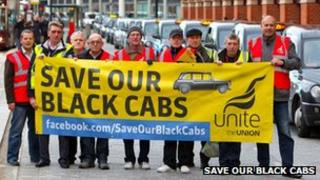 Workers who lost their jobs at cab maker LTI have travelled to London and Liverpool to campaign to keep the firm in Coventry.
Nearly 100 staff were made redundant when parent firm Manganese Bronze called in administrators.
Unite union officials and six ex-workers joined members of the London Taxi Drivers Association at St Pancras station and Heathrow.
Paul Williams said: "It's about putting pressure on the administrators."
The firm which makes traditional London black cabs went into administration last month.
Ninety-nine staff were made redundant out of a total of 176 workers in Coventry.
'State of shock'
Mr Williams, 49, said: "We're gathering support to ensure manufacturing in Coventry can continue and put pressure on the administrators to try to reinstate as many of the people who were made redundant as possible.
"The other angle is to raise awareness of the massive impact on taxi drivers in London caused by the administration, there is only a skeleton crew working [at LTI] so it's having an impact on them too."
The former production supervisor explained some staff were working to fit new steering boxes which were discovered to be faulty and led to the suspension of sales of the vehicles.
Mr Williams said the administration has had a "massive effect".
He said: "Many of the workers are still in a state of shock, some have been there for 15 years and another for 49 years.
"The implications are huge. Many of them haven't known anything else and won't be able to transfer their skills into anything else."
An online petition has been set up calling for help from ministers to keep the factory in Coventry.