Warwickshire PCC Ron Ball's vow to boost local policing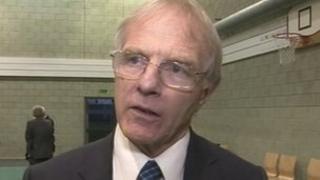 Warwickshire's new police and crime commissioner has said improving local policing in the county is one of his top priorities.
Ron Ball, who won Thursday's vote as an Independent, said local policing was currently "patchy" across the county.
He said he wanted more people to be able to identify their local officer and to recruit more special constables.
Mr Ball said his objectives were "completely in line" with the chief constable's.
The commissioner won last week's election, beating Labour's James Plaskitt by 33,231 votes to 25,200 in the second round of counting.
Mr Ball said he had already been talking through his plans with the police force's treasurer to have more officers focused locally and said it would "affect less than 0.1%" of the budget.
'Greatest need'
The former airline pilot said he had ordered a review of bureaucracy in the force to be carried out within six months, to see if officers' time could be better spent.
Mr Ball, who was sworn in immediately after the election count on Friday, said he also hoped that by recruiting more volunteer special constables it would mean more officers available for the front line.
He said: "From my experience on the election campaign, driving around the county, speaking to people in coffee shops and on the street, it seems the relationships people have with their local officers are patchy.
"From my very unscientific survey, I'd say 50/50 have a good relationship and know their local officers, but we'll be carrying out much more detailed analysis than that to find out which areas are at greatest need."