Flood warnings on Warwickshire rivers still in place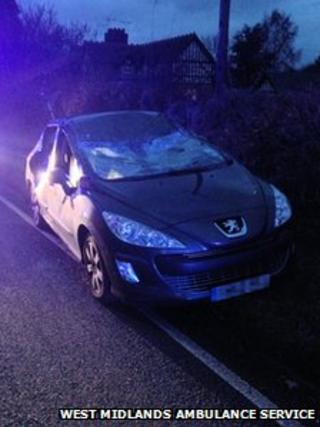 Flood warnings issued by the Environment Agency (EA) in Warwickshire remain in place after heavy rain.
Various parts of the Rivers Avon, Blythe, Leam, Anker and Dene are at risk, according to the agency.
The Met Office has issued a yellow weather warning, forecasting heavy rain and winds of up to 50 to 60mph.
In Nuneaton, a female driver had what ambulance crews said was a "miraculous" escape when a tree fell, crushing her car.
Emergency crews were called to Weddington Road in Nuneaton at about 16:00 GMT after a 3ft-wide tree fell across the car.
West Midlands Ambulance Service said the driver, in her 50s, "miraculously only suffered a cut to her head" and was taken to hospital as a precaution.
'Completely underwater'
Dave Throup, from the EA, said rivers were becoming more of a concern as they already full from rain over the last few days.
The agency has produced a live flood warnings map to alert people to potential problems in their area.
Some residents in Eathorpe, near Leamington Spa, said they had laid sandbags ahead of further expected rain.
Wally Redford, who chairs the parish council in Eathorpe, near Leamington Spa, said the water level was falling, and he believed it was not as bad as the 1998 and 2007 floods.
A former firefighter, he said: "My riverbank is 15 to 16ft above the normal level of the water and last night it was overtopped and it came within 4ft of the rear of the house.
"So it probably rose on the River Leam here in excess of 16 to 18ft."
Will Pritchard, manager of the Red Lion Pub, which sits on the banks of the River Leam in Hunningham, said the road through the village was passable, but the car park and garden were both "completely underwater".
He said the owner had been at the pub Wednesday night preparing with sandbags, as flood water had entered the building about five years ago.
Bridge closed
Castle Road in Kenilworth has been hit by flooding between Castle Hill and Brookside Avenue and drivers are advised to approach with care.
The bridge in Wolston was also closed on Main Street, near Brandon Lane, due to flood water.
Daventry Road in Southam was shut due to flooding near the A423 junction, as was the B4085 Honeybourne Road in Bidford-on-Avon at the Bidford Bridge junction because of flooding.
Vicki Bristow, from the Safer Roads Partnership, advised drivers to "leave any non essential travel until any flooding has subsided".
Chiltern Railways had earlier reported rush-hour problems on the line between Lapworth and Solihull because of "poor rail conditions".
Midlands Today weather forecaster Shefali Oza said heavy rain was expected to continue overnight, moving eastwards across the region.
She said winds were expected to die down and Friday was expected to be a much drier and calmer day.