Coventry LTI workers rally support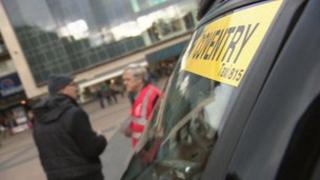 Workers who lost their jobs at cab maker LTI have been handing out leaflets in Coventry, campaigning to keep the firm in the city.
Nearly 100 staff were made redundant when parent firm Manganese Bronze called in administrators.
Union officials from Unite and ex-workers spent Saturday in the city centre urging people to support them.
An online petition has been set up calling for ministers' help to keep the factory in Coventry.
When the firm, which makes traditional London black cabs, went into administration last month, 99 staff were made redundant out of a total of 176 workers in Coventry.
City councillor Bally Singh, who has been backing the former workers, said: "We should have the same support for the black cab industry here in Coventry that other countries show for their own industries."