Fillongley beach High Court appeal lodged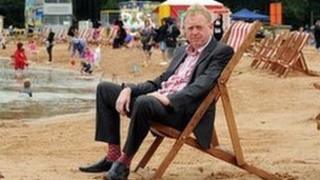 The owner of a man-made beach in north Warwickshire, that has been the centre of a long-running dispute, has lodged a High Court appeal in a bid to keep it.
Heart Park and Beach cost £1.4m and has been run as an attraction for three years off Meriden Road in Fillongley.
Stephen Hammon lost an appeal over the council's refusal to grant planning permission retrospectively last month.
Mr Hammon said he has removed features including a statue and lighthouse but is determined to keep the beach.
He said: "We've kept the sand and the rocks.
"They're the things we're fighting for because that's for when the kids come for the school trips. Everything else we can bring in on wheels.
"We're hoping that the beach is opening in March.
"Whether it's a grass beach or a sand beach, we're still going to be open.
"It's still a park and I've still got planning for swimming and boating so we're going to carry on."
The decision to reject the appeal for the beach, which opened at the Heart of England Conference and Events Centre in July 2009, was made following a three-day hearing at Atherstone's Council House in September.
North Warwickshire Borough Council said it had not received any official notification of Mr Hammon's appeal and believes the inspector's decision was sound.