Shottery development: Council appeals against plans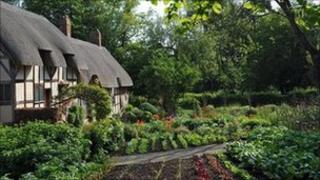 A Warwickshire council intends to take the government to the High Court over a decision to allow a controversial development of up to 800 homes.
Stratford-on-Avon District Council's regulatory committee voted to start appeal proceedings against the plans for Shottery .
New homes, a primary school and a health centre would be built near Anne Hathaway's cottage under the proposals.
The authority's leader said a challenge was "feasible and winnable".
Planning permission was granted by the planning inspector last month who said detailed plans would need further approval before Bloor Homes and Hallam Land Management could develop the site, which is close to the childhood home of William Shakespeare's wife.
Councillor Chris Saint, head of the Conservative-run council, said their decision to appeal "wasn't an uninformed decision".
'Establishing principles'
Mr Saint said: "Actions like this can sometimes be dealt with in a fairly short time and we hope we can perhaps do that.
"We can win this at an early stage rather than having to go through the whole rigmarole of a court hearing which would be rather costly.
"A non-political planning inspector has made a judgement and the Conservative secretary of state has gone along with that. We think there are reasonable grounds to challenge that judgement.
"I think we have got a lot of people behind us because this doesn't just affect Stratford and Shottery.
"This affects the whole of south Warwickshire and if the inspectorates start imposing large housing estates on small communities we are stacking up problems.
"We think that it's in the interest of the entire Stratford district that we get our principles established."
A spokesman for the developers said they are aware of the council's plans and will review the details of the appeal when the papers are served.