George Eliot writing desk stolen from Nuneaton museum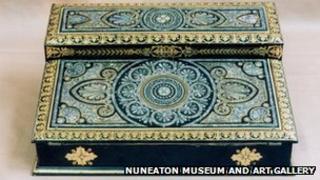 A portable writing desk once owned by the 19th Century Middlemarch author George Eliot has been stolen.
The secretaire was taken from a glass display cabinet at Nuneaton Museum and Art Gallery in Warwickshire, on Sunday.
Staff did not realise the papier mache desk, decorated with mother of pearl, had gone until the following day.
It is believed that the novelist, whose real name was Mary Ann Evans, had used it write some of her most celebrated work when she lived at Griff House.
A museum spokeswoman said the desk had been in their George Eliot collection since 1917, although records of how they came to own it were lost during World War II.
Councillor Ian Lloyd, who is responsible for arts and leisure, said the theft was "a low blow" for the area.
"George Eliot is such a huge part of our local history and we have people visit from all over the world to learn about her life," he added.
"It is shocking that someone would come into the museum and steal such a priceless piece of history and one which was put on display to educate and inspire generations of people."