Ex-chief constable's call to boycott police election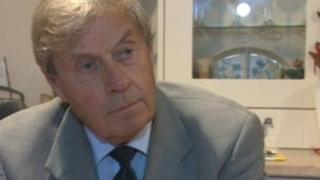 A former Warwickshire Police Chief Constable is urging people not to vote in the forthcoming police and crime commissioner elections.
Peter Joslin said he feared changes to the system would leave people with "little experience" in charge.
He said if people who disagree with the changes withheld their vote, the government would know the public did not agree with it.
The government said Mr Joslin's message was "deeply irresponsible".
Policing and criminal justice minister Damian Green said: "Parliament decided to establish Police and Crime Commissioners and allow the public to have their say through the election of their local PCC.
"For the first time the public will finally have a say on key decisions about crime and policing in their area.
"It is wrong and deeply irresponsible to say the public should not take part in a democratic election."
'Little knowledge'
The new commissioners will take charge after an election on 15 November.
The commissioner will be responsible for the force's budget and the hiring and firing of chief constables, replacing the role of current police authorities.
Mr Joslin retired from the police in 1998, having served for more than 40 years. He was chief constable for 15 years.
He said policing in the UK was the envy of the world.
"Here we are changing it so that people with little experience and few qualifications, and certainly little knowledge of the police, could be put in a position where they can go as far as sacking the chief constable," he said.
Conservative candidate Fraser Pithie said it was "regrettable Mr Joslin had come out with such comments".
Ron Ball, independent candidate, said he was "disappointed" by what he called "irresponsible" comments.
Former MP James Plaskitt, Labour's candidate, said Mr Joslin was "wrong" and said the role of the commissioner was to help "build up the resources of the force" and not to look after the day-to-day running of it.