Brian Albrighton jailed for Adebayo Adeniran murder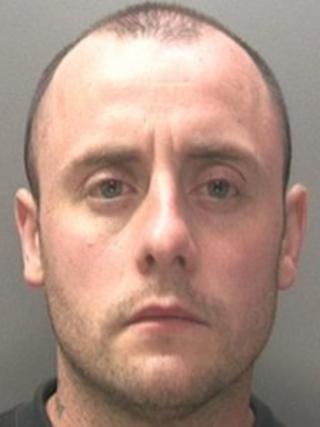 A man who police called a "wicked fantasist" has been jailed for life for stabbing to death a student in an empty house in Coventry.
Brian Albrighton, 31, of Walsgrave Road, Coventry, pleaded guilty at an earlier hearing to murdering Nigerian student Adebayo Adeniran, 32, in June.
Officers who worked on the case said Albrighton had fantasised about what it would feel like to stab someone.
At Birmingham Crown Court, he was told he would serve a minimum of 22 years.
Mr Adeniran, who was known as Patrick, had been studying for a masters degree in oil and gas management at Coventry University.
Angela Millington, from the West Midlands Crown Prosecution Service, said both men had originally met in a pub that evening.
However, Mr Adeniran had become friendly with Albrighton's girlfriend, which led him to attack the student outside an empty house in which the couple had said Mr Adeniran could stay that night.
She said father-of-five Albrighton stabbed his victim four times, one wound piercing the student's heart.
'Outrageous knife killings'
Det Con Harry May, of West Midlands Police, said it was "one of the most wicked, senseless murder cases" he had experienced.
He said Albrighton had fantasised about what it would feel like to kill someone with a knife and researched stabbings on the internet, watching "outrageous" knife killings.
Mr May added: "[He] ultimately carried out his fantasy on an innocent man he stumbled across on a night out."
Jailing Albrighton, Judge William Davis QC said Mr Adeniran was the "eldest son of proud parents back in Nigeria", whose "grief cannot be properly expressed in words".
Two women, aged 27 and 31, who were also arrested in connection with the murder have since been released from police bail without charge.