Nina Baker gears up for debut album release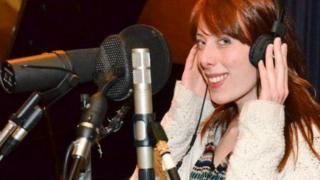 Still a relative newcomer to the Midlands, Nina Baker has already made an impression on the local music scene thanks to her Teacup in a Storm EP and a string of gigs around the patch.
Nina, originally from Norfolk, recently relocated to Leamington Spa and since then, when not performing live, has spent much of her time carefully crafting her debut album.
Called Quite Frankly, the collection of songs by the pianist is due out early next year.
It has certainly been a labour of love for Nina, who is the BBC Coventry & Warwickshire Band of the Month for November.
Nina went solo in 2010 having performed in different bands and is fairly open-minded in her approach to songwriting and recording.
The musician said: "The majority of the album was recorded in Wales at Rockfield Studios.
"Travelling from Norfolk to Wales is quite a trek so it's great being where I am now because it's very central.
"I've also had to travel to London to record with the Kings Gospel Choir and then back to Norfolk to record with a different choir.
'Bohemian Rhapsody piano'
"I've been working with a producer called Nick Brine who's actually the producer for Arctic Moneys, The Darkness and Bruce Springsteen.
"I've also been working with an executive producer called Martin Levan who happens to be a seven-time Grammy award winner.
"He's worked on a lot of the Andrew Lloyd Webber productions so it's been great to work with these two people and collaborate a lot of different styles of music.
"Although there's jazz, pop and rock within my music it's also got a real classical element so it was great to have those two minds helping me work towards this.
"It all flowed quite well really."
Nina may want to learn how to play the guitar in the future, but her real passion is the piano and she has followed in the fingertips of the late Freddie Mercury.
"The piano that I recorded a lot of the numbers on was the piano used by Queen for Bohemian Rhapsody so that was amazing," Nina continued.
"The organs I played on are quite antique but the sound is just phenomenal from them."
You can hear music by Nina Baker on BBC Introducing in Coventry and Warwickshire on Friday nights between 20:00 and 21:00.