Warwickshire police election: 'Not enough info' on vote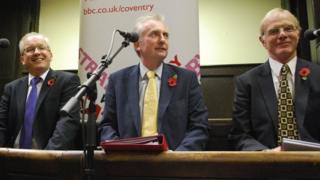 All three candidates in Warwickshire's police and crime commissioner election have said the government has not informed the public well enough.
Ron Ball (Independent), Fraser Pithie (Conservative) and James Plaskitt (Labour) hope to be elected to the position on 15 November.
The winning candidate will set priorities for the force, oversee its budget and hire the chief constable.
But the candidates say that the public does not know enough about the vote.
With 41 elections being held across England and Wales, voters should have been sent a booklet containing information about the role of the commissioners, how to fill in ballot papers and where to get details of local candidates.
Mr Plaskitt is not happy that he is having to spend much of his time explaining that the commissioner will replace the existing police authority, instead of talking about what he would do in the role.
Speaking at BBC Coventry & Warwickshire's commissioner debate in Warwick, he said: "I think the government has made a poor job of getting its information out.
"It's their reform, I happen to think it's a good reform and I support them doing it.
"But they said they would inform everyone about the election and the issues and there's a little booklet which every household was supposed to get. I haven't had it, my neighbours haven't had it.
"This is an important post. It'll have a big impact on our county, on our policing and our criminal justice services."
'National disgrace'
Mr Pithie said it was "not acceptable" that the public had not been well informed.
He said: "This is an election which everyone should have information about so they can make the proper choices. It could have been handled a lot better.
"This was always going to be difficult, holding an election in November and getting people interested in the issues and having the time to speak to candidates.
"We would like as many people as possible to vote.
"But before they're able to do so they need information about what it's all about and what each candidate stands for."
Mr Ball was equally unimpressed with the amount of information the electorate had received.
He said: "I think it's an absolute national disgrace the fact that the government have done so little.
"In terms of the validity of the election, we have no alternative but to treat it as though it is supported heavily.
"If I get elected there is no way I'm going to go into the job apologetically.
"The system has been set up, I didn't set it up, it's been really badly administered but in no way will that affect how I approach the job if I'm elected."