MP's fears over Coventry cab firm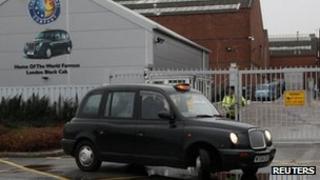 Administrators at Coventry cab maker LTI are not sharing enough information about the situation, an MP has claimed.
Bob Ainsworth, Coventry North East (Lab), spoke after meeting with Unite members over the situation at LTI.
Nearly 100 workers in the city lost their jobs last week when parent company Manganese Bronze called in administrators.
The business secretary's office said it could not get involved while the firm was in administration.
The firm, which makes the traditional London black cabs, employed 176 staff but 99 Coventry staff were made redundant last week. More staff lost jobs at dealerships across the country.
Production was halted when a fault with the taxis' steering box led to the recall of more than 400 cabs and the suspension of sales. The fault has still not been rectified.
Mr Ainsworth said the first step was to get the firm back in production and said he would be calling Business Secretary Vince Cable to help support the firm.
He said he had met with LTI bosses shortly before the administrators, PricewaterhouseCoopers, arrived and had been left with the impression there was every opportunity to keep the company going.
But, he added, since then the administrators had not seemed willing to share what was happening and had got rid of nearly half the workforce.
"It doesn't seem to me they are willing to restart it (production)," he said.
"We are losing what is a small but very important part of the local skills base," Mr Ainsworth said.
"It is an iconic brand. Without the support of the business secretary little can be done."
A spokesman for the Department for Business, Innovation and Skills said it was a worrying time for the workforce, but it was a matter for the administrators.
"They have said that they have started discussions with an 'encouraging' list of interested parties and we are hopeful a solution can be found.
"The government cannot intervene directly in the administration process, but we stand ready to engage where possible once a way forward is identified.
"We are working with local partners, including the LEP to minimise the impact of job losses on workers in Coventry."
PricewaterhouseCoopers have been approached for a comment but have not responded so far.