Coventry Cathedral restoration 'complete before Christmas'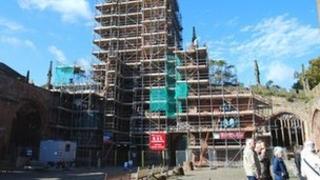 The team behind the restoration of the ruins of the old Coventry Cathedral believe that the work will be completed by Christmas.
Keith Learoyd from Norman and Underwood said it was "going well" despite having to replace more stone than expected.
They are using traditional stone masons to carry out the work on a large crack which appeared in a wall last year.
The emergency work began in July after receiving the initial funding and is estimated to have cost about £250,000.
'Bit more severe'
Mr Learoyd said: "We've had probably more replacement stone that we envisaged so that's probably put us a couple of weeks back, but its still on schedule to complete before Christmas.
"There's probably more structural repairs we've found on the west wall of the south aisle, that was probably a bit more severe than we first envisaged, so we've taken a lot more masonry down... I think we've kept it on programme as much as we possibly can.
The ruins, left after the World War II bombing of the city, have been added to a list of thousands of sites considered at risk of being lost by English Heritage.
It is also on the World Monuments Fund 2012 watch list, a register of buildings worthy of preservation.