Stratford woman accused of fly-tipping with leaves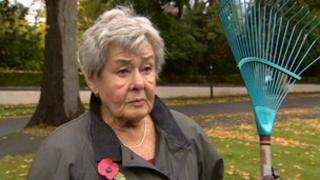 A woman who was accused of fly-tipping after her gardener left some leaves in the gutter has received an apology from a council.
In a letter, Stratford on Avon council told 82-year-old Barbara Ray that fly-tipping was punishable by a fine of up to £50,000 and/or 12 months in prison.
The council said the letter was aimed at Mrs Ray's gardener who moved the leaves from her garden to the roadside.
Mrs Ray has now been given a year's supply of green bags to collect leaves.
She said: "It's ridiculous, I don't fly-tip. I don't want to cause trouble, I just want to keep the place clean and tidy."
'Overly aggressive'
Her avenue in the town famed for being the birthplace of William Shakespeare is lined with many trees, which lose their leaves into the gardens of the nearby houses.
Tom Archer, Mrs Ray's gardener for the past 13 years, said he had blown a "couple of wheelbarrows full into gutter" so that he could cut the lawn.
He said: "We do five properties along this road.... I've even approached the contractors who sweep the gutters and they've agreed it's the best thing to do with the leaves, and I don't see what the problem is now."
Tony Perks from the district council said the letter was perhaps "overly aggressive" and that they "don't like upsetting residents".
He said: "I'm certainly disappointed in what we've done.
"I think the staff sent the letter with the best of intentions and, from what I understand, it was aimed more at the professional gardener who'd been pushing the leaves out into the road, which we felt is something we should try and discourage."