Atherstone-on-Stour blaze: Two-minute silence for firefighters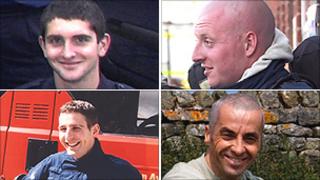 A two-minute silence has been held in memory of four firefighters who died tackling a Warwickshire warehouse blaze five years ago.
Ian Reid, Ashley Stephens, John Averis, and Darren Yates-Badley, died after the fire at Atherstone Industrial Estate, on 2 November 2007.
Fire service staff in Warwickshire observed the silence at 19:28 GMT, the time when crews were called.
In May, three fire bosses were cleared of manslaughter over the deaths.
Flags on fire stations will fly at half-mast during the commemorations for the men who died.
The bodies of Mr Stephens, Mr Averis and Mr Yates-Badley were found in the charred remains of the factory. Ian Reid died in hospital after the fire.
Twenty-year-old Mr Stephens and Mr Yates-Badley, 24, were based at Alcester fire station.
Mr Reid, 44, and Mr Averis, 27, were based at Stratford-upon-Avon.
The memorial comes after incident commanders Timothy Woodward and Adrian Ashley and fire service officer Paul Simmons were cleared of responsibility for the men's deaths.