Children's Air Ambulance Service launched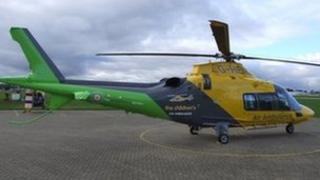 A £500,000 air ambulance service designed to transfer critically ill children to specialist hospitals across England and Wales has been launched.
The Children's Air Ambulance Service helicopter, based at Coventry Airport, will initially be used to transport specialist paediatric medical staff.
From next year it will be used to fly patients to intensive care units.
The service says the helicopter will be used for pre-booked urgent transfers, not emergency pick ups.
The Children's Air Ambulance Service is part of the Air Ambulance Service which also looks after Warwickshire and Northamptonshire Air Ambulance at Coventry Airport as well as the Derbyshire, Leicestershire and Rutland Air Ambulance.
A £545,000 fundraising target was set for the helicopter, which has equipment on board designed for use with children and babies.
Alex Toft, director of operations and clinical services for the Children's Air Ambulance, said: "Our strategy for the launch is to start the service by transferring paediatric specialist teams between now and February 2013.
"This will help increase the efficiency and availability of these teams to meet what is already limited resource.
"It will also enable the teams to gain experience working with the new helicopter which is dedicated to their needs.
"From February 2013 we will start moving children in our specially modified aircraft, with an interior designed specifically to their requirements."