Rugby family 'heartbroken' over stolen bulldog puppy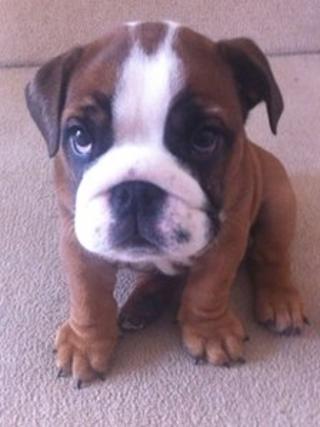 A family say they are heartbroken that burglars who raided their Warwickshire home also took their 12-week-old British bulldog puppy.
The puppy was taken from the property in Cresswell Place, Cawston, Rugby, on Wednesday afternoon. It is not known whether the pet was targeted.
The DogLost helpline said the theft of puppies which could be sold on was a growing problem.
Thousands of pounds of electrical equipment was also taken in the raid.
A Twitter campaign to find the puppy, known as Charley, has received backing from celebrities including Julian Clary.
A £1,000 reward has been offered for the dog's safe return.
Birthday present
The theft was discovered when Kelly Tolin returned from work after collecting her six-year-old son up from football and found their home ransacked.
Mrs Tolin said: "We are all heartbroken and my six-year-old boy is beside himself.
"I have wanted a bulldog for 10 years and we saved up for ages. She was my birthday present from my husband."
The couple paid £2,000 for the pedigree animal and believe the thieves may be aware of her worth.
"I don't care why she was stolen, she's part of the family and we just want her back," she said.
Warwickshire Police who are investigating said Charley was microchipped.
Caroline Kisko, secretary of the Kennel Club, said: "Dog theft is devastating for the families involved and whilst it is not particularly common there are sadly people who steal pedigree dogs or fashionable cross breeds because they perceive them to be of value."
She said if a dog theft had happened in a particular area it was possible criminals could strike again and advised people to get pets neutered and microchipped, which can make them less desirable to dog thieves.
DogLost said many breeds of puppy could sell for several hundred pounds, which the charity said may be attractive during the current economic climate.