Coventry cathedral medieval glass displayed in London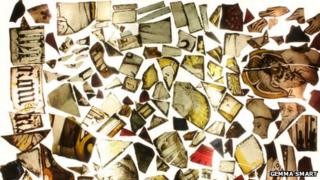 Pieces of medieval stained glass from Coventry's old cathedral have gone on display in London in a bid to help preserve the building's ruins.
The glass was taken out of St Michael's before it was destroyed by incendiary bombs during World War II.
The World Monuments Fund, which is overseeing the work, has showcased the glass as part of its exhibition at Sir John Soane's Museum.
It hopes the display will raise the profile of its £2m-plus appeal.
The cathedral is on the World Monuments Fund 2012 Watch List, a register of buildings worthy of preservation.
Dr Jonathan Foyle, chief executive of the fund in Britain, said the glass, which was stored in the cathedral's crypt in 1939 to protect it as the war started, was of great historical importance.
'Britain's largest collection'
Dr Foyle said: "If someone came across a drawing made in Coventry 600 years ago on a sheet of paper there'd be an enormous fuss. Libraries would open specially to let people see it.
"This is drawing every bit as good as you get on paper - it just happens to be on glass.
"We've just cleaned about 5,000 out of 7,000 pieces.
"This is the largest collection of loose medieval glass in Britain and Coventry needs to flaunt it.
"To take it to London means that it gets a bigger audience and [will help] the subsequent stages of the project; fully securing St Michael's and joining up the historic assets in the cathedral's quarter."
Exhibits from Hampton Court Palace, St George's Bloomsbury, Strawberry Hill and Stowe are on display alongside the glass until 26 January 2013.