Coventry Cathedral ruins on English Heritage risk list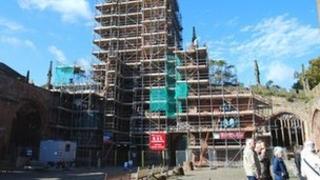 The ruins of the old Coventry Cathedral have been added to a national "at risk" list.
The ruins, the remains of a World War II bombing, were added to a list of thousands of sites considered at risk of being lost by English Heritage (EH).
The cathedral, also called St Michael's, was added because areas of exposed walls have become unstable, a spokeswoman said.
However, work is being carried out at the site, which received two EH grants.
Meanwhile, sites added to the list in Warwickshire include parts of Warwick Castle, which have been moderately damaged by visitor footfall, EH said.
And medieval settlement remains at Hodnell Manor, Hodnell and Wills Pastures were also added because of "rubbish dumping issues".
'Future generations'
The cathedral ruins are grade I listed, which means they are considered of exceptional interest and of international importance.
Only about 2.5% of listed buildings in England are Grade I.
The new Coventry Cathedral was built next to the remains of the old parish church, which have been preserved as a site of peace and reconciliation.
The cathedral's spire is covered in scaffolding as work is being carried out.
Visitors to the site told the BBC they were keen to see it protected and preserved.
Chris Wells, visiting the cathedral from Truro said: "It is a very important piece of history for future generations."
Meanwhile, Kevin Lowe from Loughborough, who was taking photographs of the cathedral, said: "It means a lot to the people of Coventry."
Buildings in Warwickshire recently removed from the "at risk" list after work was carried out include Baginton Castle and Astley Castle.