Coventry £2.8m 'shared space' plans revealed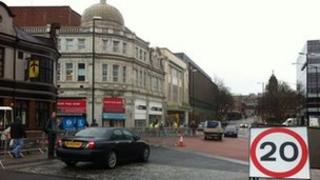 Plans for five more "shared space" traffic junctions in Coventry have been announced by the local authority, at a cost of £2.8m.
The four-way junctions, without traffic lights or kerbs, create an area where neither pedestrians nor vehicles have right of way.
Some opponents have described them as "confusing" and "dangerous".
Coventry City Council said the plans, which will cost the local authority £1.5m, improve traffic flow and safety.
The existing schemes, including one at Gosford Street, have led to criticism from some drivers and pedestrians.
Mark Kipling, managing director of National Express Coventry, said the company's bus drivers had found the traffic was flowing better as a result of the city's "shared space" junctions.
He added that a two-day trial at Fairfax Street suggested traffic would cope with the changes.
The latest plans are due to go before Coventry City Council's cabinet on 8 October.
They include removing traffic lights at Fairfax Street, West Orchards, Corporation Street, New Union Street and High Street.
The local authority said £250,000 was being provided by transport agency Centro and the remaining from private sources including the Skydome, Severn Trent and Coventry University.