Rugby Borough Council puts £1m in mortgage pot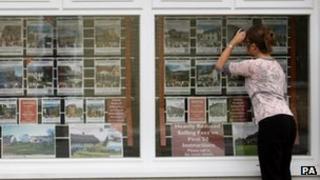 A borough council in Warwickshire is to put £1m towards underwriting mortgages to help first-time buyers get on the property ladder.
Rugby Borough Council is working with Lloyds TSB, which has been administering a national scheme.
The aim is allow people to get mortgages with only a 5% deposit.
Leigh Hunt, the councillor in charge of housing at the Conservative-run council, said it also aimed to free up more homes.
"We are not spending money what we are doing is investing money," she said.
"We are putting money into a deposit account from which we'll earn interest and it's there purely to act as a guarantee in order to enable people to get on to the housing ladder and thereby free up houses within the borough."
She said Lloyds TSB would make decisions on the mortgage applications. The council would only have to pay up if someone defaulted on their mortgage which the councillor said had not happened so far in the 12 months the scheme had been running nationally.
Ms Hunt said there was a maximum loan value of £120,000, which meant the scheme was aimed at people buying smaller homes or cheaper properties, such as those in regeneration areas.
She said there were currently many people on the council's housing waiting list while many of the lower priced homes in the private sector were being "brought up by investors".
"We have a responsibility to ensure that people have houses across the borough on whatever tenure that may be," she added.
Other councils have taken similar steps to help first-time buyers, such as the City of Lincoln Council which proposed setting aside £2m to underwrite mortgages under £100,000.