Olympic handball inspires popular new Coventry club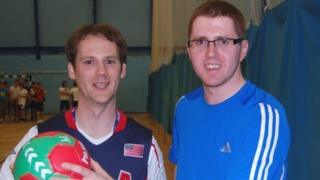 Proof of the legacy of London 2012 can be found on a dark evening in Coventry, where about 50 people packed into a sports hall to enjoy playing handball.
Following the "Inspire a Generation" message at the Olympics, the city's first public handball club was set up within a week of the end of the Games.
Its flyers and posters at local gyms stress "No experience needed, just enthusiasm".
Coventry Handball Club co-founder Colin Littlewood, 25, said: "At least 70% of the people that we've had come through say 'I'd never seen the sport before the Olympics and I watched it and thought that looks amazing'.
"Everyone comes off the court really wanting to be playing more."
'Complete novices'
Described by the club as Europe's second most popular team sport in terms of participation, interest has grown in Coventry following the unprecedented amount of Olympics television coverage.
This year's Olympics was the first in which Great Britain took part - qualifying for a sport not widely played in this country through being the host nation.
Both the men's and women's teams went out in the group stages, losing every game, but the matches in the Olympic Park's Copper Box venue were played in front of sell-out crowds and the sport captured the public imagination.
The sport is already huge in continental Europe and it was teams from the sport's heartlands who prevailed at London 2012, with France winning the men's gold and Norway crowned women's champions.
In Coventry, the majority of players at the new over-18s mixed club are in their early to mid-20s but Duane Harwood, at the age of 52, underlines how the sport has captivated local people of all age groups.
The oldest player and club secretary, who has lived in Coventry all his life, had not been to the gym for "probably a good 12 months" and said his last regular sports action was "probably back at school".
He said: "At the end of the [first] session I was [thinking] 'am I going to be able to make the next one?' But I did.
"Of course by the following day everything aches. The day after that everything aches more."
At the other end of the age scale, chef Stuart Tomes, 19, has been pleased with what has been served up at the weekly hour-long sessions in his home city at Coventry Sports & Leisure Centre.
He said: "I came down not really thinking much of it but then it turned out to be really good. It's a good work-out as well. I've even booked off all Thursdays for the rest of the year so I can play."
On average nearly a quarter of the players at the sessions have been women.
After attracting about 20 "complete novices" in week one - men and women - the record turnout in week four was partly boosted by publicity at Coventry University's freshers' fair.
'Unbelievable feeling'
One new face, third-year disaster management student Chrissie Jordan, 23, said: "I'm from Germany and we play handball there quite a lot.
"It's really fast and it's really fun to watch as well... I'm going to give it a go and see what comes out of that really."
Mr Littlewood, who is currently unemployed, helped to organise transport for football teams taking part in the Olympics in Coventry.
The handball club was formed after he and another city resident, teacher Paul Cross, 30, both contacted the existing University of Warwick handball club and decided to set up a public one.
Mr Cross had previously been into basketball until, at 5ft 9ins tall, he "stopped growing".
According to Mr Littlewood, handball - with goals of 2m x 2m - combines "the best elements of sort of football, basketball, [with a] bit of rugby, so [there's] a bit more contact than in basketball or netball".
He said: "I would say it's closer to football, if you imagine football being played in a style of sort of Barcelona rather than sort of Stoke City. So it's sort of a short passing game really but with your hands obviously."
European influence also comes in the shape of coach Lukasz Rusiecki, 30, who played handball for 10 years in Poland and started at an academy affiliated to a professional club at the age of 11.
The warehouse worker in Evesham, Worcestershire, takes part in five-minute - rather than proper hour-long - matches in teams of seven, as people learn the sport. Players pay £3 each per session towards the £55 cost for the court at the Fairfax Street centre.
In future the club hopes sponsorship can contribute to buying a kit and it plans to play in one-day or two-day tournaments around the country, maybe later this year.
Its ambition for next season and beyond is to have separate men's and women's teams in regional leagues.
Mr Harwood added: "Our dream would be that at some point in maybe the 2028 or 2032 Olympics there's going to be somebody playing handball for GB who got their start here in Coventry.
"To know that you'd had a hand in making that happen would be an unbelievable feeling."