Warwickshire council plea to save Royal Fusiliers battalion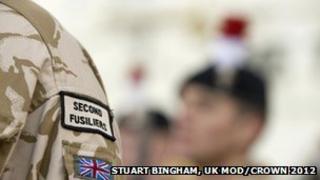 Council leaders in Warwickshire have urged ministers to reconsider plans to axe the 2nd Battalion, the Royal Regiment of Fusiliers.
Leaders from all three parties on the authority said the battalion, which recruits in Warwickshire, had a long history in the county.
Council leader Alan Farnell said he would write to the Ministry of Defence to call for it to drop the plans.
The MoD has said the proposal is part of plans to "modernise" the Army.
Ministers are proposing to cut Army personnel from 102,000 to 82,000 following previous overspends on defence.
Council leaders said the fusiliers had a "rich tradition" in Warwickshire, with links dating back to to the time of the Napoleonic wars.
The county also hosted a homecoming parade for the fusiliers when they returned to the UK from a tour of duty in Afghanistan in 2009.
Four infantry battalions are due to close under the savings: the 2nd Battalion the Yorkshire Regiment (Green Howards); the 3rd Battalion the Mercian Regiment; and the 2nd Battalion the Royal Welsh; as well as the 2nd Battalion the Royal Regiment of Fusiliers.