Warwick Hospital trust announces partnership with firm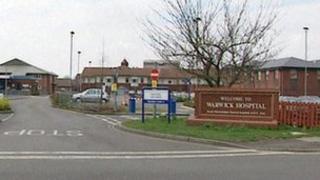 A Warwickshire health trust has agreed a partnership with a private company.
South Warwickshire NHS Foundation Trust, which runs Warwick Hospital, has announced a partnership with Serco.
BBC Midlands Today health correspondent Michele Paduano said the trust and Serco were considering putting in a bid together to run George Eliot Hospital in Nuneaton.
The George Eliot Trust said it would look at a bid if one was made by the South Warwickshire trust and the firm.
The South Warwickshire trust said one possible example of its partnership with Serco was allowing people with diabetes to better manage their condition at home, reducing time at hospital, as the firm could provide access to technology for the patients.
'Shared vision'
It added the trust and the company would look over the coming months at how the partnership could work.
The trust said initial talks with Serco began following "a shared vision and interest in working with George Eliot NHS Hospital Trust".
The South Warwickshire trust has said it wants to have a single foundation trust across the county. It currently runs hospitals in south Warwickshire and community services, such as district nurses and health visitors, across the entire county.
Responding to the partnership announcement, George Eliot trust chief executive Kevin McGee said: "I am sure it's a great announcement for the people of South Warwick.
"If South Warwick and Serco come forward with a bid to work with us we will look at that as we need to look at all bids that come forward."