Pulp Detective teen magazine created by Warwickshire bricklayer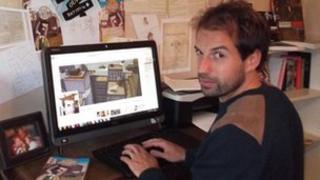 A Warwickshire builder has created a new magazine for teenagers and is set to launch it in a chain of high street stores and newsagents.
Richard Kavanagh, from Stoneleigh, received an order for 9,000 copies of the first issue of Pulp Detective after signing up with a national distributor.
The 31-year-old did not know how to use a computer two years ago, but swiftly learned new skills for the project.
The magazine will be available from 27 September.
Mr Kavanagh, a bricklayer who works for a family-run business in Coventry, said it was his passion for pulp-style stories and illustrated books that spurred him on to work on the publication in his spare time.
'Filling a gap'
He said: "I always thought it would be great to combine the two, and try and create this into a magazine format rather than just a one-off book.
"Pulp Detective is aimed to help fill the gap in comics and magazines currently on the market.
"Youngsters are offered either Beano and Dandy, Marvel etc. or Nuts and FHM with little else in-between."
Mr Kavanagh admits he knew little about publishing two years ago, and was barely computer literate.
"I hadn't even sent an email," he continued. "I'd used them for gaming but nothing serious."
Together with his wife, the 31-year-old travelled to a number of universities to attract writers and illustrators for the magazine.
He has since got three students on board as writers and will regularly use three young artists too.
'Book-phobic boys'
While the stories are set in prohibition America and centre on organised crime, Mr Kavanagh claims other comics are "a lot more violent" and he is trying to get interest from schools.
He added: "I think the format and content of the magazine really appeals to book-phobic boys.
"It's made up of three illustrated short detective novels. They're ongoing stories from issue to issue."
But his main focus at the minute is next week's nationwide launch in over 2,000 shops after striking a deal with distributors Seymour.
"They've taken it and got a contract with WHSmith and newsagents.
"It's quite incredible from sitting in my lounge and creating it on the computer and then having it shipped to Northern Ireland."
The distributors have already pushed Mr Kavanagh to get the magazine stocked in America but for now he wants to see how initial copies sell domestically.
About half of the stock need to be sold to break even, according to the builder who only told some of his work colleagues about the project last month.
The aim is to release three issues before Christmas and then publish the magazine bi-monthly in the new year.