Coventry pensioner's bed handle death was 'avoidable'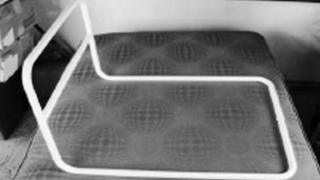 A pensioner's death at a care housing complex in Coventry was "avoidable", a serious case review has found.
The body of the woman in her 80s was found trapped between a bed grab handle and the side of her bed in her flat at the home run by care company Anchor.
The report by Coventry's Safeguarding Adults Board (CSAB) said her death by positional asphyxiation was an accident but could have been avoided.
It said the risks of using that type of bed grab handle were "well documented".
The woman, called Mrs C in the report, was affected by a number of health issues including Parkinson's disease.
'Became invisible'
The report said she had been issued with the bed grab handle by Coventry City Council about 10 years before her death to help her get in and out of bed.
It documented that Mrs C had taken the device with her as she moved homes and it was not properly fitted to, or suitable for, her electric bed in her last flat.
The report said: "The grab handle apparently became 'invisible' to those who were working with Mrs C and providing her care."
The CSAB produced 12 recommendations following its investigation.
Three of the recommendations made by CSAB were for the city council, three were for Anchor Trust Housing Service, two were for Coventry and Warwickshire Partnership NHS Trust and one was for University Hospitals Coventry and Warwickshire NHS Trust.
The remaining three were multi-agency recommendations.
'Inspect all equipment'
Brian Walsh, who chairs Coventry's CSAB, said the review did not appoint blame but "carefully considered the circumstances involved in this case in order to gain an understanding of the lessons that could and have been learned".
A council spokesperson said the recommendations were in the process of being implemented if they had not been already.
Linda Watson, district manager for Anchor, said: "Following this accident, staff immediately launched a programme to further raise the high standards of care for our customers.
"Care staff will inspect all equipment that customers bring with them if it poses a possible risk and a risk assessment will be carried out."