Coventry Gateway business park plans submitted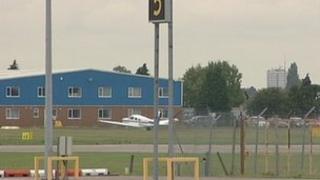 Plans have been submitted for a business park scheme near an airport which could create up to 14,000 jobs.
A new technology hub would be created north of Coventry Airport with a manufacturing and logistics park added to the south under the £250m project.
Plans have gone to Warwick District Council and Coventry City Council.
The Coventry and Warwickshire Development Partnership said the plans were expected to be considered by those authorities towards the end of 2012.
Construction jobs
The partnership is the company behind the Gateway scheme and was formed to deliver the project, which has been championed by Coventry & Warwickshire Local Enterprise Partnership.
The proposed technology hub between the airport and the A45 has been designed to appeal to high-tech companies in automotive, aerospace and digital technologies.
This could help to create up to 4,000 jobs, while the planned manufacturing and logistics park to the south of the airport would see up to 6,000 people employed.
The partnership said 4,000 jobs could be attracted to Whitley Business Park as a result of proposed road improvements related to the Gateway project and planned changes to the Tollbar junction on the edge of the airport.
It was anticipated that construction jobs for the Gateway initiative could be delivered as early as 2013, the partnership said.