Old Warwickshire laws and penalties released online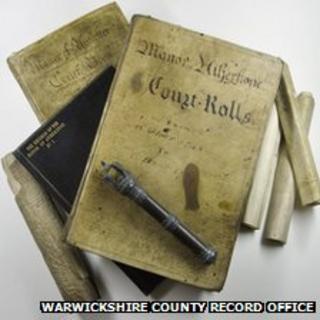 Selling shoes before one o'clock in the afternoon and playing tennis and bowls are among the activities that have been banned in parts of Warwickshire over the centuries.
The details of some of the county's old laws have now been made available online through the National Archives' Manorial Documents Register.
"People were fined for playing bowls [in Temple Balsall] in the 1620s," said Neil Bettridge, the manorial documents project officer for Warwickshire County Council.
"It was more a question of social order.
"People weren't keen on [other] people getting together in large groups and necessarily enjoying themselves.
"I think it was a question of social control that they didn't want people to be wasting their time on what they thought were frivolous things."
Bowling enthusiasts in Temple Balsall, which was formerly in Warwickshire, may not be subjected to such punishment today, but there were many more laws in force in the county that seem peculiar by today's standards.
In 1424 tennis was banned from the streets of Atherstone, according to Mr Bettridge, while ale house haunters who did not attend church were fined under charges issued by 17th Century court leets.
Women who committed adultery were forced to sit on the back of a ram in front of everyone in the court, hold the animal's tail and recite a ditty.
The county council's archives and historic environment manager, Sam Collenette, said the register was held by the National Archives but the original documents were available at local record offices.
Ms Collenette said Warwickshire County Record Office hoped to "harness" the enthusiasm of local individuals and societies who use the historic collections to "bring more of these stories to light".
She said: "In the day-to-day of our jobs as archivists we aren't able to find this material out.
"We rely on everybody coming in and doing the research, interested in their local history to find this information out and tell everybody else about it.
"This is a breakthrough because now people, from the comfort of their own homes, can find out where these records are located.
"They're quite difficult records to use and a lot of them are in Latin. And because of the age of them the records are in difficult handwriting.
"They are the only source that will give people detailed information about medieval life in villages."