Warwick Castle eagle handlers use carcasses as a lure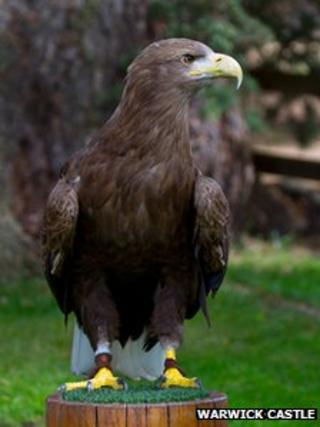 Animal carcasses are being used to recapture an eagle that has gone missing from Warwick Castle.
Stanley's handlers believe he may be resting in a tree after eating dead rabbits from a field in Leamington where he has been seen three times.
Chris O'Donnell, from the castle, said with so many rabbits in the area dead from myxomatosis the eagle probably believes he is in "the promised land".
His handlers have left two carcasses in the field hoping to lure him back.
The white-tailed eagle flew off during a show last Thursday.
The 10-year-old has a wingspan of more than 6ft (1.82m), and his keepers said he was fairly timid and not capable of hunting.
Stanley is named after Kazakhstan, where he is originally from, and has been flying at the castle for more than eight years.