Warwick Castle eagle gives handlers slip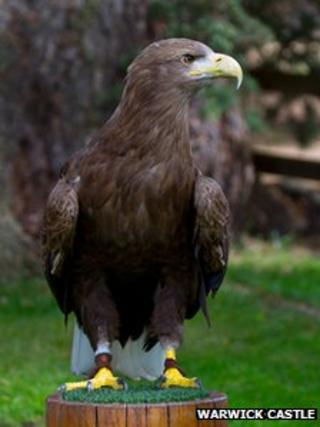 A bird of prey missing from Warwick Castle has disappeared again.
Stanley the white-tailed eagle flew off during a show last Thursday.
Handlers had been trying to lure him down from a tree in a field next to Leamington Rugby Club where he was on Monday night.
Chris O'Donnell from the castle said he flew off again on Wednesday afternoon and three handlers were staking out the Sandy Lane area after receiving calls that he had been spotted there.
They include Stanley's main handler, Paul Rees, who came close to catching him in a field next to Leamington Rugby Club in Kenilworth Road on Tuesday.
He said there were up to 30 dead rabbits in the field which had caught myxomatosis, and Stanley had landed on the ground briefly on Tuesday to eat one of them, but had flown off again.
The 10-year-old has a wingspan of more than 6ft (1.82m), and his keepers said he is fairly timid.
Stanley is named after Kazakhstan, where he is originally from, and has been flying at the castle for more than eight years.
A castle spokesman said all of its birds were trained to free fly during shows, which meant they were able to leave the area.