Warwick Castle eagle escapes to rugby club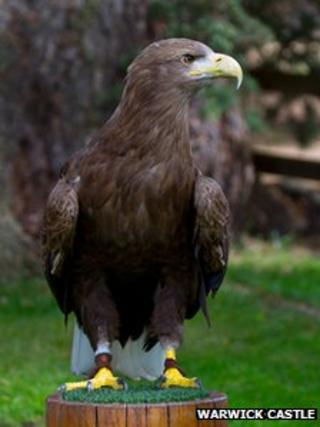 Stanley the white tailed eagle missing from Warwick Castle, has taken up residence in a tree near Leamington Rugby Club.
He has been missing since last Thursday when he flew off during a show.
His trainer Chris O'Donnell said they received a call from someone who had spotted Stanley in a field next to Leamington Rugby Club.
His handler Paul Rees is at the club in Kenilworth Road trying to lure him down.
Mr O'Donnell said they were hoping Stanley would come down when he becomes hungry.
The 10-year-old has a wingspan of more than 6ft (1.82m) and his keepers said he is fairly timid.
Stanley is named after Kazakhstan, where he is originally from, and has been flying at the castle for more than eight years.
A castle spokesman said all of their birds are trained to free fly during shows, which means they are able to leave the area.