Stratford council back RSC Courtyard Theatre plans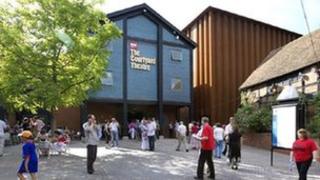 Plans by the Royal Shakespeare Company (RSC) to permanently open its temporary Courtyard Theatre have been backed by Stratford-upon-Avon town council.
The complex in Stratford, which seats 1,000 people, has housed productions for six years while two other theatres were redeveloped.
Planning consent runs out at the end of this year so the RSC has applied to Stratford District Council to keep it.
The district council is set to consider the application "in the early autumn".
The town council, which advises on planning applications, said the theatre had "become an accepted structure in the town".
It said it realised some residents were against the application but that "the benefits of the retention of the building outweighed demolishing it."
The Courtyard Theatre cost £5m to build in 2006 and was part of a £113m project that saw the redevelopment of the Royal Shakespeare Theatre and the adjoining Swan Theatre.
The RSC plans include scaling down the auditorium inside from 1,000 seats to between 200 and 300 seats, making space for two new rehearsal rooms and storage for 30,000 costumes, which are currently kept in a warehouse.