Coventry Cathedral in amnesty for missing stained glass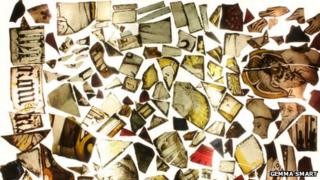 Experts working to restore the ruins of Coventry's old cathedral have begun an amnesty for the return of pieces of its medieval stained glass windows.
The World Monuments Fund, which is overseeing the work, said that while cleaning and cataloguing the glass it was noticed some was missing.
The windows were removed from the cathedral before World War II but it is believed some glass was given away.
Those behind the project said the glass pieces could be "anywhere in the UK".
Gemma Smart, the chief conservator of the glass, said it was believed the glass had travelled across the UK to be repaired at various workshops, and pieces may have been left behind.
'Not pointing fingers'
She said: "We can't be certain what happened to all the pieces - some might've been lent, some might've been given as gifts.
"But we're not here to point fingers - we're here to try to get it back, or at least have a record of what was there."
She said experts had estimated they currently had about 7,000 fragments of the stained glass, and about 2,000 of those had so far been cleaned.
She said they did not know exactly how many pieces were missing.
St Michael's Cathedral's windows were stored in its crypt in 1939 to protect them as the war started.
However, the cathedral was almost completely destroyed in the Coventry Blitz in November 1940.
The building is on the World Monuments Fund 2012 Watch List and last year a campaign was launched to raise £2m to fund restoration work on the ruins after a large crack appeared in one of the walls.
The work on the glass is being carried out in public until 31 October at Coventry's Herbert Art Gallery and Museum.