London 2012: Lady Godiva puppet receives size 72 boots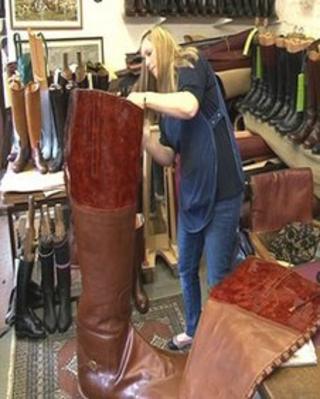 A 6m-high puppet of Lady Godiva heading for London to celebrate the Olympics has visited Northampton to receive size 72 boots.
The puppet, powered by a team of 100 cyclists, left Rugby for Northamptonshire after starting its journey in Coventry on Sunday night.
It was presented with riding boots worth £10,000 which were created using up to four cow hides.
The puppet is due to arrive at Waltham Forest on 5 August.
Transported using a bike called the Cyclopedia, it will also go to Milton Keynes, Luton, Hatfield and Waltham Abbey.
The puppet arrived in Northampton on Tuesday afternoon where it received the boots which were made by Northamptonshire boot maker Horace Batten.
Unlike the original Godiva - who rode naked - the puppet is dressed in an embroidered coat created by a team of artists from across the West Midlands.
According to legend, Godiva rode naked on horseback through Coventry in protest against high taxes.
The project, part of the London 2012 Festival, represents the arts from the West Midlands region at the Games.
Another 11 arts projects are representing Northern Ireland, Scotland, Wales and England's other regions.