London 2012: Bhutanese archer trains alone at University of Warwick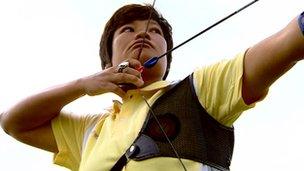 For the last month, with the Olympics looming on the horizon, one Bhutanese archer has been training alone in a field at a university in Coventry.
"I'm not a professional in archery but I can do my best," Sherab Zam said.
"The place is very good and the people are friendly."
Since the Los Angeles games in 1984, the Asian country has sent archers to successive games.
This year they have sent only one, although there will be an additional athlete competing in one of the shooting competitions.
Ms Zam first took up archery in 2005 and it was only in March of this year that she qualified to represent her country.
'Little bit disappointed'
She arrived at the University of Warwick's Westwood Heath campus in June with her coach Tshering Choden.
Ms Choden admits they were not too sure what to expect when they first arrived.
She said: "At first we were a little bit disappointed because we expected to shoot with many archers.
"The first week there were some university student archers and we had a good time with them.
"But their exams are over and they had to go home so now we're all alone here."
The Women's individual event is one of the first competitions to get under way at the games, starting at Lord's cricket ground in London on Friday 27 July.
"It is her first Olympics and she seems a little bit nervous," continued Ms Choden.
"We are here through the wild card so I'm not saying we should win gold but I'm hoping that she does better than what she has been doing here.
"I want her to enjoy it."
'Respectful and appreciative'
Among those standing in Ms Zam's way are a number of Team GB athletes, including Leamington archer Naomi Folkard.
"I'm hoping that she gets a chance to shoot against them," Ms Choden added.
"Even if she loses it'll be a very nice experience to shoot against world archers."
The director of physical education and sport at the University of Warwick, Terry Monnington, said it had been an aspiration to attract small teams to their campus.
Mr Monnington said: "We were contacted by the Bhutan Olympic committee and we established the link over the last 18 months.
"We feel we have helped in their preparation prior to going into the [Olympic] village later this week in terms of offering sports psychology, physiotherapy as well as training facilities.
"They're lovely people. They're so respectful and so appreciative of what we're trying to do for them.
"They're here and they regard it as a privilege to be here and to be part of the Games."
Related Internet Links
The BBC is not responsible for the content of external sites.