Coventry's Godiva Festival cancelled after floods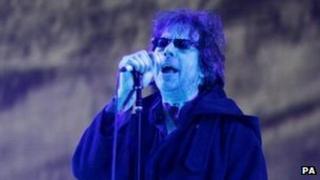 An annual free festival in Coventry has been cancelled after Thursday's flash flooding, the city council has said.
More than 100,000 people were expected at the Godiva Festival held from Friday to Sunday ahead of the Olympic torch relay's arrival.
Jos Parry from Coventry City Council said the event had been cancelled due to "dangerously boggy" ground and the council would lose £350,000.
She confirmed the Olympic Torch celebration would not be affected.
Ms Parry, the council's assistant chief executive, said: "We held off making the decision as long as we could and we've been working with some very experienced festival build people.
"They've been saying the backstage area of the War Memorial Park is now too dangerous - it's very boggy and vehicles are getting stuck and people are slipping over.
"We looked at the site last night and if it had been a dry night [on Thursday] we would have been in with a chance."
'Very disappointed'
She said that bad weather insurance for festivals was very difficult to get.
Ms Parry said: "The cost of the festival is the cost of what it would have been should it have gone ahead, which is around £350,000.
"A lot of that has already been spent because you need to pay people to come in and do the work.
"The cancellation is not taken lightly and we're all very disappointed."
She added that the Olympic Torch celebration event on Sunday evening will go ahead because it will be in a different part of the park where new football pitches have been created.
Echo and the Bunnymen were due to headline the main stage on the first night, with Cast topping the bill, which also features a number of local bands, on Saturday.
The Godiva Festival is the UK's biggest free three-day event, organisers said.
Last year it attracted more than 120,000 festival-goers and 2012's event would have marked its 15th year in Coventry.