Funeral soldiers turned away from bar in Coventry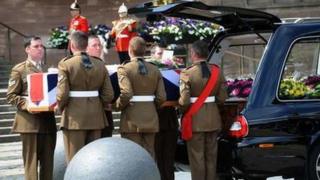 Soldiers who were pallbearers at a corporal's funeral say they were "absolutely disgusted" at being turned away from a Coventry pub on Monday.
Cpl David Allison, of The Royal Welsh, said the men had wanted tea or coffee to "calm our nerves" during rehearsals for Cpl Michael Thacker's funeral.
Thousands of people have backed a Facebook campaign calling for Browns Independent Bar to be boycotted.
The bar, which has a policy of not serving people in uniform, apologised.
Owner Ken Brown said the soldiers would have been served if staff had known the funeral was taking place.
'Little bit worse'
Cpl Thacker, 27, of 1st Battalion The Royal Welsh, died on 1 June after being shot while manning an observation post in Helmand, Afghanistan.
The funeral for the soldier, who lived in Keresley, Coventry, with his wife Catherine and two-year-old daughter, took place at the city's cathedral on Monday.
His brother Matthew, a member of the same battalion, was among the pallbearers refused service at the bar.
Cpl Allison said they went into the Earl Street venue during a 40-minute break and did not want alcohol.
He tried to be served after two other soldiers were refused.
"The lads that went in, they [staff] basically said that they couldn't come in as you're in fatigues and we won't serve you," he said.
"And it sort of left a numb feeling. What can you do? You just go and that was it."
He added: "We were with Matthew, Michael's brother as well, and we wanted to calm his nerves and it just made things a little bit worse which we didn't want."
Cpl Allison said he felt "absolute disgust" at the policy, although he added that he thought the bar did not realise the funeral was taking place.
He has backed a Facebook campaign calling for people to boycott the pub on Armed Forces Day on Saturday.
"Why are you not allowed in just because of your uniform?" he said.
"You're serving your country and you're wearing a uniform with pride."
The soldier added that support from Coventry residents in general had been "absolutely amazing".
Meanwhile people from Canada, Australia and Thailand are among those who have commented on the Facebook page.
The owner of the bar, Mr Brown, said: "I can only apologise again to the family and anybody else who was upset during the funeral service.
"Just that I'm sorry and that it wouldn't have happened if we had been aware of the funeral at the rear of Brown's, in the cathedral."
Cpl Thacker's widow says she has accepted the apology.