Medieval stained glass from old Coventry cathedral to be restored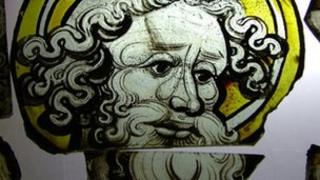 Fundraising to help preserve the ruins of the old cathedral in Coventry has reached £250,000.
This will fund the cleaning and analysis of the medieval stained glass, with work starting in the summer at the Herbert Art Gallery & Museum.
It was taken out of the cathedral before World War II and has been stored in the crypts.
The cathedral is on the World Monuments Fund 2012 Watch List and £410,000 is still needed to fund restoration work.
Dr Jonathan Foyle, chief executive of the World Monuments Fund Britain, said: "The journey feels like it's just beginning.
"At the beginning of August, when we get that glass out, put it on public display, and show everybody else what's hidden there...We want to involve people and show them what's going on."
The cleaning and analysis of the glass will take place at the Herbert Art Gallery & Museum and is expected to last for three months.
Dr Foyle said: "We can show them the glass, they can meet the conservators, and we can explain the discoveries we're making."
A series of events will also be held in connection with the restoration of the glass and the cathedral.