Worcestershire woman campaigns to restore war memorials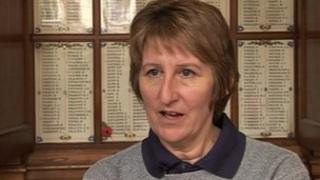 A Worcestershire woman is campaigning for the restoration of eight memorials throughout the county.
Amateur historian Sandra Taylor has spent the past 13 years researching more than 10,000 names on local war memorials, many of which are decaying.
Ms Taylor is part of a group that is trying to fund restoration work in time for the centenary of the outbreak of World War I in two years time.
She has compiled a list of those most at risk and in need of help.
Ms Taylor began as a volunteer for the National Inventory of War Memorials, recording and researching sites in Worcestershire.
'Really bad state'
However, as a family historian, Ms Taylor also wanted to find out more about the names on the plaques and stones.
It was then that she realised that many were in a "really bad state", including those in Malvern, Worcester, Flyford Flavell, Bishampton, Throckmorton, Little Comberton and Broadway.
Ms Taylor, along with fellow members of the Worcestershire World War I Centenary Committee, now want raise money for restoration.
"Applications will be made to the War Memorials Trust, and the Lottery Fund, and some areas are looking at fundraising with fetes," she said.
"I want people to look at war memorials and take on some ownership, to look after them and keep names visible."
A memorial at St Barnabas Church in Worcester needs around £5,000 of restoration work, including potentially researching any names that have disappeared from the stone.
Reverend Peter Haddleton said: "Those names, which are the only memorials to those young men, are now fading, so we need to be saying to new generations, 'You have to remember the past.'"
Across Herefordshire and Worcestershire there are more than 1,200 war memorials.