Coventry Cathedral ruins benefit from £100,000 donation for restoration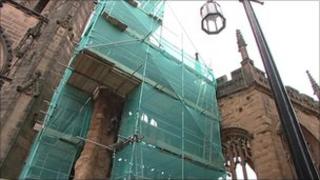 American Express has donated $150,000 to help preserve the ruins of Coventry's old cathedral.
The finance company has promised the money - about £100,000 - after an appeal for more than £2 million was launched last year when a large crack appeared in one of the walls.
The cathedral is on the World Monuments Fund 2012 Watch List, a register of buildings worthy of preservation.
Funds will help restore the ruins and the original stained glass windows.
Dr Jonathan Foyle, chief executive of the World Monuments Fund, which helped to secure the donation, said: "They [American Express] like what we're doing in Coventry.
'Delighted'
"We set the agenda because we're the preservation organisation and Coventry is a major project which [was selected from] the watch list for 2012.
"They think it's a project worth backing and we're delighted."
Some of the money will be going towards the repair and restoration of the cathedral ruins, but also to the conservation of the original stained glass windows.
The glass was removed from the cathedral before it was bombed in 1940 and has been hidden in crates in the undercroft since the war.
Dr Foyle said: "We are doing each part in stages and for this summer, we need just to raise £50,000 more and we've got enough for a three-month programme to repair all the stained glass.
"The money is actually coming in, but we need all the cash we can get frankly."
Jane Woodward, executive director of the cathedral, said: "We want to restore it [the glass], conserve it and put it on display so people can enjoy it and see it."