Coventry voters reject elected mayor plans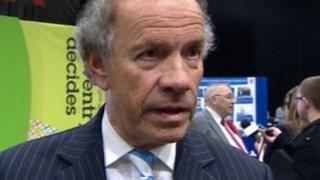 Coventry voters have rejected proposals to create an elected mayor in the city.
Held on the same day as local council elections, Coventry was among 10 English cities voting in mayoral referendums.
In Coventry more than 63% voted no, with turnout just over 26%. The leader of the 'No' campaign said people had voted on a "pointless proposal".
A spokesman for the pro mayor camp said they would still work with the council to "achieve the best for the city".
BBC political reporter Sian Grzeszczyk says there were cheers in the hall as the mayoral result was declared at about 03:30 BST.
Coventry businessman Joe Elliott, who led the city's 'No' campaign, believed voter apathy, coupled with the result, had "provided a huge answer to the requests for mayors in this country".
'No crowing'
Mr Elliott said: "I like discussion and I like democracy.
"I don't like dictatorship and I believe the council now must move forward and make sure that these city deals and benefits that are on offer are taken for the benefit of our city."
Andrew Lomas, part of the pro mayor campaign, was disappointed with the voter turnout and felt it was difficult for anyone to "crow" about the result.
"We all have to go away and scratch our heads and ask why nearly three-quarters of people aren't voting," Mr Lomas said.
"I think we did what we could with limited resources. It was difficult getting traction.
"Ultimately people weren't interested in a debate about structures and local government and that's something we'll have to take away from this.
"Coventry still needs a city deal and we still need investment and jobs.
"We're just interested in working together with the existing council leaders to try and achieve the best for the city."
In any city where a majority of voters back the proposals, mayoral elections will be held later this year.
• All the latest election results are available at bbc.co.uk/vote2012