Atherstone-on-Stour blaze firefighters 'died for no reason'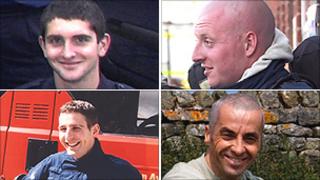 Four firefighters died after being sent into "an obviously dangerous situation for no good reason", a court has heard.
Ian Reid, John Averis, Ashley Stephens and Darren Yates-Badley were killed in a blaze at a warehouse in Atherstone-on-Stour, in November 2007.
Nobody was in the building at the time of the blaze, the jury at Stafford Crown Court was told.
Managers Timothy Woodward, Paul Simmons and Adrian Ashley deny four counts of manslaughter by gross negligence.
'Needless loss'
According to the prosecution, the men who died had been ordered into a smoke-filled warehouse containing only cardboard boxes, labels and some old furniture.
Prosecutor Richard Matthews QC said the failings of each of the three defendants were a cause of the men's deaths.
"This is not a case about what some people see as the irritating trivialities of health and safety red tape," he said.
"This is not about stopping the heroic members of our emergency services from risking their lives, and the lives of those who may be under their command, to save others.
"Rather, it's only about the needless loss of four lives, four individuals, lost as a result of having been sent into a situation where no-one was in peril... sent into what was, and should have been recognised as, an obviously dangerous situation for no good reason."
Mr Reid, 44, died in hospital, while the bodies of Mr Averis, 27, Mr Stephens, 20, and Mr Yates-Badley, 24, were recovered from the building four days later.
Mr Matthews said the blaze had not been properly assessed by the officers in charge.
He said operating procedures meant incident commanders were required to review their tactics every 20 minutes, with dynamic risk assessment a key factor for those in charge at a fire.
"This is where all three defendants failed and failed very badly," Mr Matthews said.
"Firefighters were sent into that smoke-filled storage area without any or enough thought as to what they were facing, what they had in place to tackle those dangers and how equipped they were to tackle those dangers."
'Disorientated and panicked'
Mr Matthews described a 19mm-diameter hose reel initially deployed at the scene as "wholly inadequate" to deal with any developed fire in a large space.
The prosecution claims that by the time the Red 1 team was sent into the warehouse at 18:53 GMT, the incident commanders knew they were dealing with a large smoke-filled compartment.
Mr Matthews said the extremely hot conditions and practically zero-visibility meant managers should have stopped "offensive" firefighting and not sent breathing apparatus crews into the building.
He told the jury that Red 1 were sent into the building with the same equipment that initial crews were using when it was apparently thought that there was only a simple pallet fire to deal with.
"All four members of the team deployed by Mr Ashley - following on from the unconsidered strategy of Mr Simmons - were, over the course of the minutes that followed, to die," Mr Matthews told the court.
The court heard that Warwickshire Fire and Rescue Service was alerted at 17:30 GMT after staff at the food packing plant failed to extinguish the fire themselves.
He said Warwickshire Fire and Rescue initially sent two appliances, which arrived shortly before 18:00 GMT.
"From that time, until an emergency was declared, firefighters wearing breathing apparatus were sent into the building with orders to find and extinguish the fire," Mr Matthews added.
The jury heard that an emergency was called by Red 1 team at 19:15 GMT and another four-man team was sent in to try to find and rescue their colleagues.
The court heard Mr Reid had become separated from the other members of his Red 1 team.
He was found in a storage area in a "disorientated and panicked" state and was seen to rush away from his would-be rescuers, the jury was told.
The court heard other rescue teams were then sent into the first-floor storage area over the following 90 minutes and one crew located two lifeless bodies before the rescue operation was halted due to the instability of the building at 21:15 GMT.
Mr Woodward, 51, from Leamington Spa, Mr Simmons, 50, from Hampton Magna, and Mr Ashley, 45, from Nuneaton, are accused of gross negligence, while working as incident commanders during the blaze.
Mr Simmons and Mr Ashley are also accused of breaching their duty of care to those who were killed by "exposing them to substantial risk to life when no other lives were at risk".
Mr Woodward is also alleged to have breached his duty of care to the deceased by failing to end the deployment of colleagues wearing breathing apparatus for the purpose of "offensive" firefighting.
The trial continues.