Coventry explorer Mark Wood reaches North Pole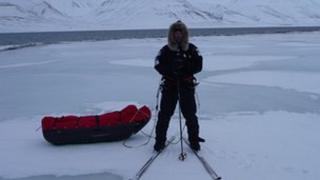 An explorer from Coventry has reached the geographic North Pole as part of an expedition to raise awareness of climate change.
In January Mark Wood, 45, completed a 612-mile (985km) ski to the South Pole.
His plans to ski solo and unaided to both poles had been put in doubt after the costs of covering a possible rescue rose to more than £100,000.
Mr Wood reached the North Pole on Wednesday during a 140-mile (222km) round trek from a Russian ice station.
"To be on top of the world with the rest of the human race below me if you like, is an immense feeling and very humbling," he said.
Champagne and fireworks
Despite expecting just ice and isolation, Mr Wood said he arrived at the pole and immediately "gatecrashed" a wedding.
"At the South Pole there's an American base, but at the North there's just ice," he said.
"But when I arrived [Norwegian explorer] Borge Ousland was getting married. He had 20 or 30 people at the North pole, flown in by helicopter.
"When I arrived Borge Ousland walked over to me and said congratulations.
"I ended up having some champagne and mulled wine, and afterwards there were fireworks."
Mr Wood organised the expedition to raise awareness of climate change and a schools programme is also running alongside it.